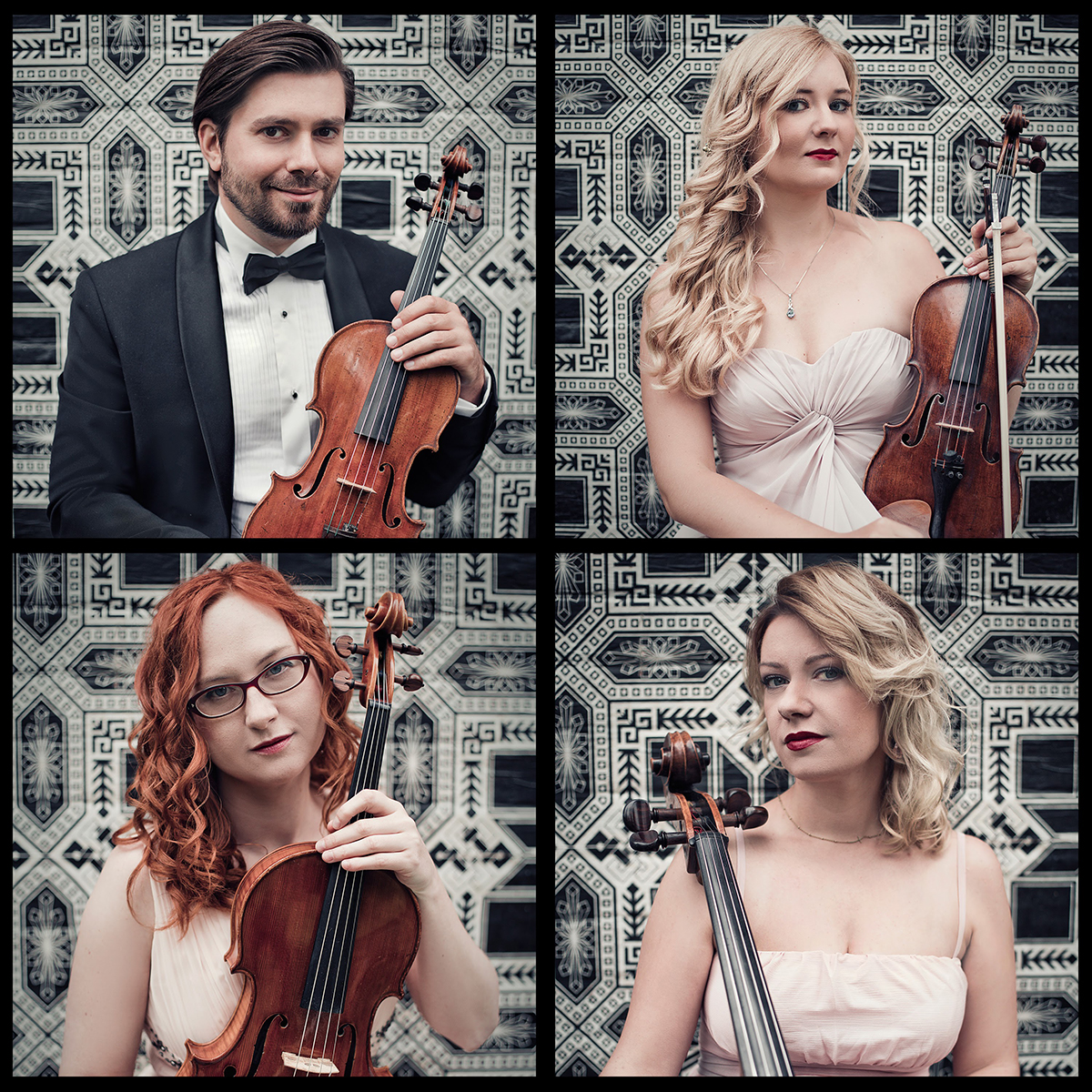 String quartet The Time Quartet was formed by The Fryderyk Chopin University of Music in Warsaw graduates: Maksymilian Grzesiak - 1st violin, Katarzyna Boniecka – 2nd violin, Aleksandra Demowska - Madejska - viola and Małgorzata Duź - cello. During several years The Time Quartet cooperated with many notable groups and artists: Andrzej Jagodziński Trio, Michał Tokaj, Grażyna Auguścik, Henryk Miśkiewicz, Maciej "Trifonidis" Bielawski, Agnieszka Wilczyńska - with whom they recorded in 2014 album "Tutaj mieszkam" (this album in 2016 received the award Fryderyk in category phonographic debut of the jazz), Mietek Szcześniak – during the tour with the project "Unequal" with Marcin Pospieszalski, Krzysztof Herdzin and Paulinho Garcia and Bartosz Gliniak - whose film music they record regularly. They are founders of studio orchestra Melanidis Orchestra with which they recorded music for seven Polish and foreign films.
They have participated in several Polish and international music festivals, including: XXXI Silesian Jazz Meeting in Rybnik, XXIII Jazz Standard's Festival in Siedlce, Festival "Two Riversides" in Kazimierz, Festival of Wojciech Młynarski's Songs in Sopot, Festival On Three Octaves in Ełk, IX Festival of Musical Enjoyment in Ostrzyce, XXI International Gospel Christian Music Festival in Gniew. The Time Quartet performed more than a few hundred concerts in Poland and abroad for institutions such as: National Warsaw Philharmonic Kaszuby Philharmonic, Podkarpacie Philharmonic, RMF Classic, Polish Academy of Sciences, Bemowo Cultural Centre, House of Culture Kadr, Cultural Centre in Bielsko-Biała, Old Town House of Culture, PROM Culture of Saska Kępa, Bielański Cultural Center, Bemowo District Hall, The Central Agricultural Library, Polonia Theatre, Jewish Theatre, Shakespeare Theatre in Gdańsk, Katarzyny Napiórkowska's Gallery, Porczyński Gallery in Warsaw, Belvedere Palace, Łazienki Palace in Warsaw, PKN Orlen, J.A. Szałas, Hansgrohe, Bayer Poland, Vattenfal Heat Poland, ABB, Unipress, Hotel Intercontinental, Hotel Radison, Hotel Marriott, and many more. The Time Quartet musicians cooperate with Sinfonia Iuventus Orchestra, Tango Fuerte Quintet, Hashtag Ensemble, Grzech Piotrowski's World Orchestra and 3275 kg Orchestra.

The Time Quartet supports charity initiatives - in 2015 they recorded a piece to a video clip promoting children feeding project "Pajacyk" in cooperation with Dawid Podsiadło, Derrick McKenzie, Wojciech Ruciński and Maciej Stuhr.

The Time Quartet is one of the best Polish string quartets which has in its repertoire classical music pieces from all music periods of many notable composers, including: J. S. Bach, L. van Beethoven, J. Brahms, A. Borodin, A. Corelli, C. Debussy, A. Dvorak, E. Grieg, J. Haydn, W. A. Mozart, R. Schumann, D. Shostakovich, A. Vivaldi and Polish excellent composers: F. Chopin, G. Bacewicz, K. Szymanowski, S. Moniuszko and contemporary: W. RatusińskaZamuszko, K. Herdzin, P. Szymański, J. Kowalska-Lasoń. In response to wider audience the quartet has broadened its work and has created its own original arrangements of popular and film music pieces. The Time Quartet's repertoire includes unforgettable music themes from films and musicals such as: "James Bond", "Scent of a Woman", "The Godfather", "Game of Thrones", "The Mission", "Pirates of the Caribbean", "Star Wars", "Amelia", "Rosemary's Baby", "Fiddler on the Roof", "Schindler's List" and pieces of most popular artists such as: Elvis Presley, Queen, The Beatles, Sinatra, ABBA, Bee Gees, Sting, Metallica, Coldplay, Adele, Bruno Mars, Michael Jackson, Whitney Houston and others. As a result the quartet recorded its own album "One" (2015) and "Time for The Time" (2017) which includes popular and film music pieces.

Download our BIO in PDF format
Maksymilian Grzesiak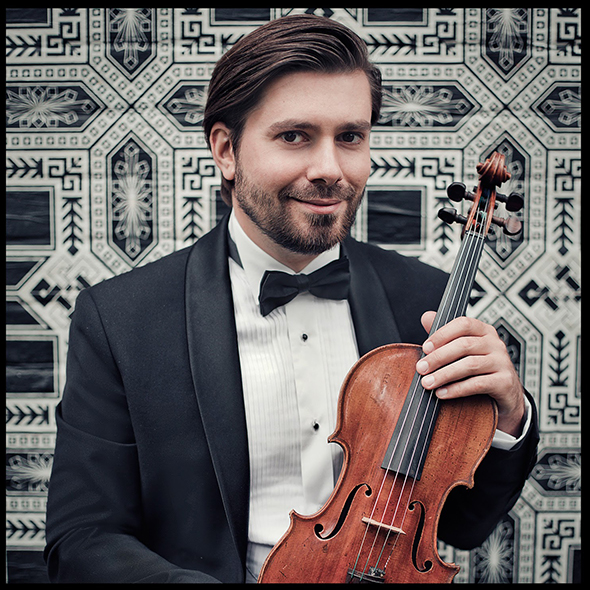 Maksymilian Grzesiak graduated from The Fryderyk Chopin University of Music in Warsaw in professor Tadeusz Gadzina's master violin class. Grzesiak is laureate of several national and International competitions and auditions. He participated in several International music festivals, including Young Virtuosos Festival in Tunis.

He participates in many concerts as solist and member of instrumental group in Poland, Great Britain, Spain, France, Italy, Germany, Czech Republic, Romania, Greece, Tunisia, Russia, South Korea, China and Hungary. Grzesiak performed solo concerts with Wroclaw Philharmonic Orchestra, Chamber Orchestra "Leopoldinum", Festival Orchestra "Classic Premičre".

He is a founder of the only studio orchestra in Poland Melanidis Orchestra which specializes in recording film music. Grzesiak is a member of Tango Fuerte – quintet specialized in performing Astor Piazzolla's pieces – with which he recorded two albums. Violinist is keen to record modern music pieces (including Jagoda Szmytka's and Agata Zubel's pieces, for recording company DUX).

President of Foundation "Time of Art".
---
Katarzyna Boniecka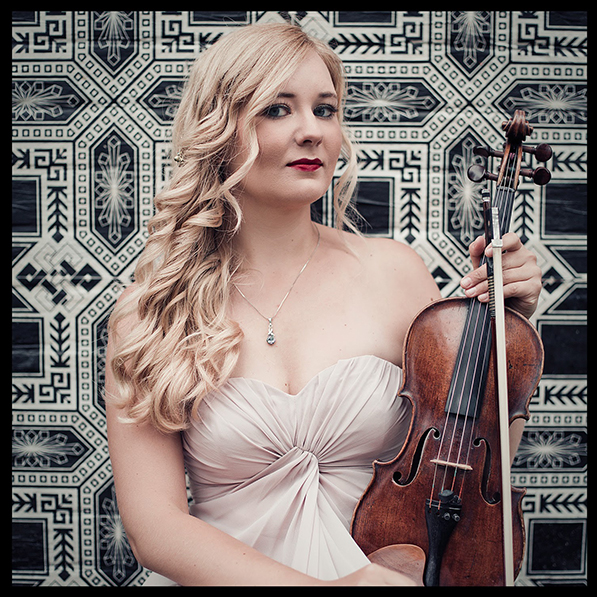 Katarzyna Monika Boniecka graduated from The Fryderyk Chopin University of Music in Warsaw in professor Krzysztof Bąkowski's class.

She participated in many auditions and master courses, including Zenon Brzewski International Music Courses in Łańcut, Master Chamber Courses with Royal String Quartet and International Music Week in Montepulciano with Alban Berg Quartet.

Her speciality has always been chamber music, that's why she participated in many competitions and projects, among others 1st International String Quartet Competition in Radom (3rd place, 2011) and Coaching Project Dancing Poznań 2010.

She performs many concerts in various instrumental groups in Poland, Italy, Germany, Hungary and Ukraine. She participates in Chamber Hall National Philharmonic's concerts and film music studio recordings with chamber orchestra Melanidis Orchestra. She teaches children in music studio Arte in Warsaw.

Founder and Vice-President of Foundation "Time of Art".
---
Aleksandra Demowska-Madejska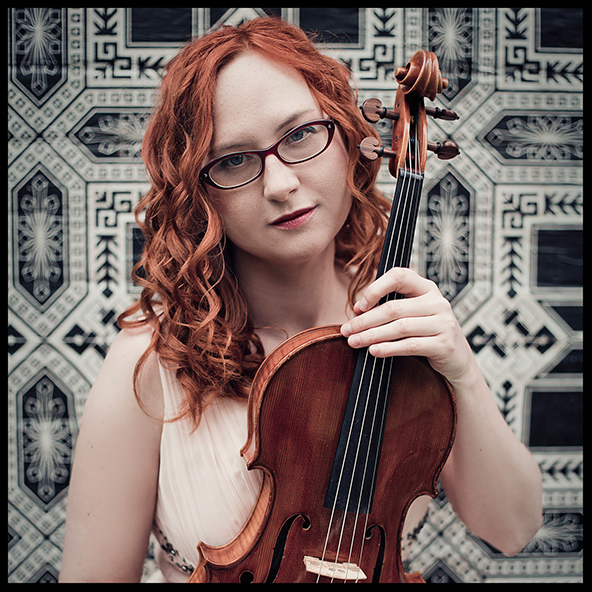 She is the doctor of musical arts (PhD degree), graduated in professor J. Kukuły-Kopczyński's viola's class at G. and K. Bacewicz Music Academy in Lodz.  She also studied at the F. Chopin Music Academy in professor M. Marczyk's class (master degree),  P. Reichert  viola's class (Fryderyk Chopin University - artistic practice) and at the Royal Flemish Conservatoire in Antwerp in the Professor L. De Neve's class.

She won I Prize at "Grand Prize Virtuoso" Competition in Salzburg (Austria). She is the winner of the festival Kammmermusikfestival "Allegro Vivo" in Horn, a finalist of the "Concorso Internazionale 10 Musica da Camera di Gaetano Zinetti" in Verona, a finalist VIII and X edition of the "Musical Youth Forum" at the Austrian Cultural Forum in Warsaw. Between 2008 and 2010 she won the award of Rector Frederic Chopin University of Music in Warsaw. As a chamber musician she  participated in festivals such as: 46th Polish Piano Festival in Slupsk, V "Music Festival on the Heights" in Zakopane, 29th Musica Polonica Nova in Wroclaw, 54th, 58th, 63th, 65th Musica Moderna in Lodz, XIII Varsovia Sinfonia "Festival for Its City" , V Jerzy Waldorff Summer Festival in Radziejowice, Musica Electronica Nova in Wrocław, 5th and 7th Varsovii- Summer Festival "Sinfonia concerts on Grochowska street", VIII Summer Festival of New Town in Warsaw, 12th Chamber classical music festival in Solec, XIV Svatováclavský Hudební Festival (Czech Republic). As a chamber musician she is a member of The Time Quartet, Trio Olympus Mons, Trio Integro and Hashtag Ensemble.

 She played as a soloist with the Philharmonic Orchestra in Gorzow, InterCamerata, Polish Orchestra Sinfonia Iuventus , AMKL  orchestra in Wroclaw.

 In the years 2001- 2011 she participated in the master classes with such distinguished professors as H. Beyerle, I. Wincor, S. Kamasa, E. Rose, J. Kosmala, P. Reichert, W. Kloss, G. Hamann, D. Rossi and Fine Arts String Quartet (courses within the fifteenth Ludwig van Beethoven Easter Festival) and Scharoun Ensemble (scholarship and courses with the musicians of the Berlin Philharmony during the festival "Zermatt" in 2006 (Switzerland)).

She was a member of the European Union Youth Orchestra conducted by  Sir Gardiner, B. Hitink and V. Ashkenazy in such venues as : Concertgebouw, the Royal Albert Hall (BBC Proms, London), Konzerthaus (Berlin). In the years 2008-2013 she was a full time musician in Polish Orchestra Sinfonia Iuventus.

 She is a member of the Board of the Association of Polish Artists and Musicians. 
---
Małgorzata Duź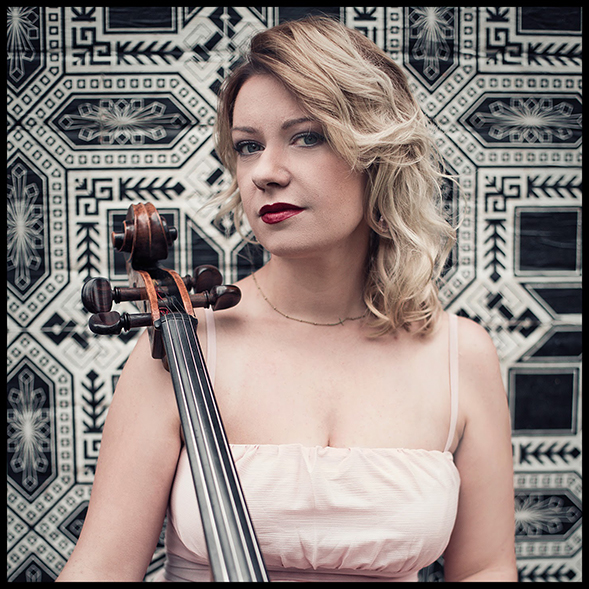 Małgorzata Duź graduated from The Fryderyk Chopin University of Music in Warsaw in professor Andrzej Wróbel's class. She participated in many master solo, chamber and orchestral courses in Poland and abroad, among others International Master Courses in Zamość, Summer Music Academy in Żagań, Music Interpretation Workshops in Janowiec and Forum of Central Europe in Germany conducted by world-famous musicians such as prof. K. Michalik, prof. T. Strahl, prof. F. Sorrentino , prof. T. Kuhne, prof. E. Arizcuren, Ch. Alstaedt, J.M. Florencio and Śląsk Quartet.

She's performed solo and chamber for many years. Duź recorded albums and film music in cooperation with Swiss, German and Polish production. She prepares arrangements of jazz and popular music pieces for string quartet and orchestral groups.

She cooperates on a permanent basis with free jazz formation "3275 Kg Orchestra" and studio orchestra Melanidis Orchestra.